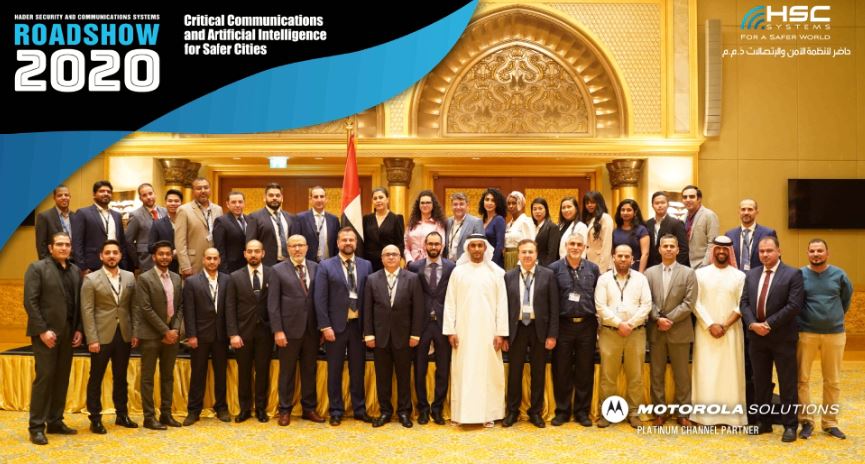 Hader Security and Communications Systems and Motorola Solutions Start a Conversation on the Role of Artificial Iintelligence in Public Safety
Hader Security and Communications Systems Roadshow 2020 opens a conversation on the importance of Critical Communications and Artificial Intelligence towards making cities safer with Motorola Solutions.
Officials from the Abu Dhabi Police, ADNOC, The United Arab Emirates Armed Forces, Ministry of Presidential Affairs (MOPA), Telecommunications Regulatory Authority and Executives ADNOC attended the exclusive event at the Emirates Palace on February 19th, 2020. The conference aimed at broadening the discussion about the important role AI in building safe cities through Motorola Solutions' portfolio and their latest critical communications innovations.
In the opening remarks, Abed Tabbara, Business Development Manager of the HSC Systems emphasized the importance of customer partnership and pledged a commitment to deliver innovative, secure and reliable communications solutions tailored for each clients in the National Government Security, Mission Critical Communications, Utilities and Oil & Gas sectors.
"Working with you and listening to your needs, drives us to investing in the products and solutions you can rely on every mission. And as your System Integrator of choice, let us continue to save lives, build stronger communities and keep cities safe", Mr. Tabbara said.
Motorola Solutions' Business Development Senior Director in EMEA, Ivan Ruiz elaborated that AI help users to make better decisions, accomplish missions faster and better, and possibly save life in seconds. He added that AI cannot only be helpful but necessary to utilize for public safety. On the other hand, Engr. Omar Al Masri, Motorola Solutions' System Engineer presented to the attendees the first and only mission critical ecosystem built for public safety. Command Center Software, Video Security & Analytics, Mission Critical Communications, and Managed & Support Services are the four platforms that serve as the technological foundation for a safer city.
The presence of Engr. Tariq Al Awadhi, Executive Director Spectrum Affairs of the Telecommunications Regulatory Authority (TRA) as honorary guest speaker brought forth great insight on local UAE telecommunications regulations and its 2021 Vision of the next technological revolution in mobile broadband. The TRA aims to be the main driver in launching the fifth generation of mobile commercial service in the country. Engr. Tariq Al Awadhi presented the implementation plan of 5G networks and named Expo2020 to be the hub of 5G where visitors will experience the best network coverage.
As part of the discussion about secure critical communication, CIFRA Solutions represented by Alexandre Vasconcelos, shared their public and hybrid cloud solution designed to encrypt communications. The software automatically encrypts chats, messages, documents, voice calls, and video calls. CIFRA is an intuitive and a secure multiplatform alternative to BYOD for telcos, businesses, and government entities.
"The excellence in innovation of Motorola Solutions as a global industry and technology leader today continues to shape the future of Critical Communications and AI. It is vital for us at HSCS Systems to make these revolutionized solutions readily available to stay ahead of next-generation security and communications technologies", Mr. Abed Tabbara stated.
About Hader Security and Communications Systems
Based in Abu Dhabi, HSC Systems is a turnkey technology system integrator catering for National Government Security, Mission Critical Communications, Utilities and Oil & Gas sectors. With wide experience in all aspects of research, engineering, conceptualizing, project management, HSC System specialized in Critical Communications, Security solutions and AI revolutionized technologies. Visit www.hscsystem.com for more information or connect through Facebook, Linkedin and Twitter.
###